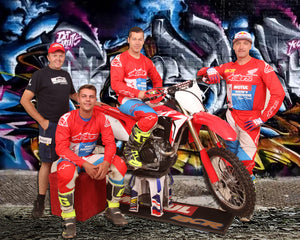 RIDER TRAINING PROGRAM
I'm able to train in multiple disciplines as I've professionally raced Motocross, Enduro, Offroad, etc and also won championships in these mentioned disciplines.
Whether you are:
An absolute beginner learning, I'll teach you how to use a clutch with gears and instil the basic riding principles.
An intermediate rider that would like to sharpen up on their skills.
A pro rider that is looking at transitioning from one discipline to another ie: motocross -> enduro
I can help you achieve your dirt bike goals.
Thanks to my Sponsors